Arkansas Valley Electric Cooperative gave CSCDC a check for $4000        Push link to read article.
THANK YOU ARKANSAS VALLEY ELECTRIC COOPERATIVE AND YOUR ROUND-UP FOR CHANGE PROGRAM: These funds can be used by our utility
assistance program to help low-income
individuals or families with emergency
energy assistance needs.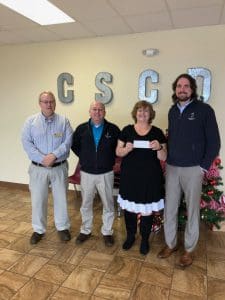 Pictured above is Marc Baker, Brandon Fisher
Carol Jenkins (holding Check) and Tony Wilson.