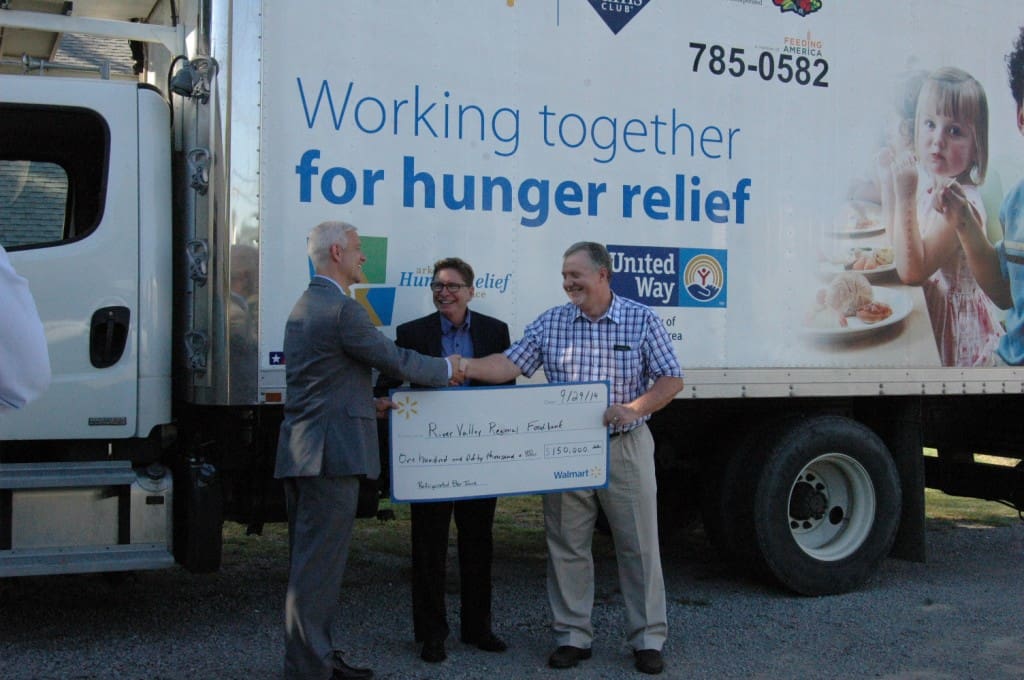 River Valley Regional Food Bank Receives $150,000 from the Walmart Foundation
Award Will Provide for New Refrigerated Food Donation Truck
River Valley Regional Food Bank today received a $150,000 contribution to assist with receiving retail store donations. The grant – which was given to the non-profit organization through the Walmart Foundation's State Giving Program – will give the food bank additional refrigerated pick up capacity from grocers and restaurants, allowing the food bank to better serve the community.
"This gift is nothing short of a miracle from heaven," said Ted Clemons, the food bank's director.  "Our current truck has over 120,000 miles on it and is in need of continual repairs."
The grant was presented to Mark Whitmer, Executive Director of Crawford-Sebastian Community Development Council, Inc. (C-SCDC) during a check presentation ceremony held today at the River Valley Regional Food Bank. During the ceremony, Whitmer thanked the food bank's grocery and restaurant partners, the Walmart Distribution Center in Clarksville, financial donors and the West Central Arkansas volunteer army of hunger fighters.  "We could not do what we do without the local passion for helping others," he said.
The food bank began operations 28 years ago as a program of the C-SCDC.  The food bank has rapidly grown in the last five years as food donations rose to meet increasing need for food assistance. In 2008, the food bank distributed 3.2 million pounds of food; last year – $7.5 million.  The food bank serves eight counties in West Central Arkansas – Crawford, Franklin, Johnson, Logan, Scott, Sebastian, Polk and Yell counties.  About 307,000 live in these counties, of which, 52,610 people are considered food insecure, and of which 22,740 are children.  Feeding America estimates 9.2 million meals are missing from the diets of West Central Arkansans.
"The Walmart Foundation is very pleased to be supporting the River Valley Regional Food Bank, and is committed to helping that in need in the communities where we serve," said Michael Lindsey, Walmart Director of Public Affairs. "Through this grant, we are hopeful that needy residents in the River Valley will have additional opportunities to receive the food that they need."